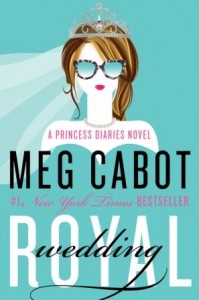 Confession: The Princess Diaries movies (and books) are one of my guilty pleasures. It was a no-brainer to read and review Royal Wedding, the latest in the Princess Diaries series, and Meg Cabot's (first, I hope) adult installment.
The book is written as a series of journal entries, text message exchanges, web articles and announcements, as Princess Mia deals with her father who is still very much in love with Mia's mother; the political ins & outs; her Grandmere who loves a good drink and insists on doing everything by the book; her engagement to Michael (and of course everything that goes along with planning a wedding) and… a few twists and turns along the way.
This is one of those books that is fun, easy to read, and hard to put down; I loved reading the journal entries as it felt like I was privy to exclusive information. Fans of the Princess Diaries will not be disappointed with this one!
About the book: 
From the #1 New York Times bestselling author of the Princess Diaries series, comes the very first adult installment, which follows Princess Mia and her Prince Charming as they plan their fairy tale wedding—but a few poisoned apples could turn this happily-ever-after into a royal nightmare.
For Princess Mia, the past five years since college graduation have been a whirlwind of activity, what with living in New York City, running her new teen community center, being madly in love, and attending royal engagements. And speaking of engagements. Mia's gorgeous longtime boyfriend Michael managed to clear both their schedules just long enough for an exotic (and very private) Caribbean island interlude where he popped the question! Of course Mia didn't need to consult her diary to know that her answer was a royaloui.
But now Mia has a scandal of majestic proportions to contend with: Her grandmother's leaked "fake" wedding plans to the press that could cause even normally calm Michael to become a runaway groom. Worse, a scheming politico is trying to force Mia's father from the throne, all because of a royal secret that could leave Genovia without a monarch. Can Mia prove to everyone—especially herself—that she's not only ready to wed, but ready to rule as well?

Purchase Links
Amazon | IndieBound | Barnes & Noble
About Meg Cabot
Meg Cabot was born in Bloomington, Indiana. In addition to her adult contemporary fiction, she is the author of the bestselling young adult fiction series, The Princess Diaries. More than 25 million copies of her novels for children and adults have sold worldwide. Meg lives in Key West, Florida, with her husband.
Find out more about Meg at her website, follow her blog, and connect with her on Facebook and Twitter.
Disclosure: I received a complimentary copy of this book in exchange for my honest review.